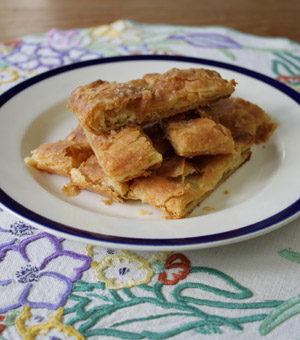 Switch to Metric
Switch to Imperial
Ingredients
For the Cream Cheese Pastry
115 g butter
85 g cream cheese
125 g flour
For the Filling
2 tsp hot English mustard
115 g tasty cheese
½ tsp vinegar
salt and pepper to taste
For the Cream Cheese Pastry
4 oz butter
3 oz cream cheese
1 cup flour
For the Filling
2 tsp hot English mustard
4 oz tasty cheese
½ tsp vinegar
salt and pepper to taste
Cheese Turnovers
I found this recipe in the 'Otago Witness' while researching a book about Frances Hodgkins's paintings for the Dunedin Public Art Gallery. Looking through newspapers on microfilm to find small mentions of your research topic can be exhausting stuff, but if you throw in a quick look at the Women's Pages of the newspaper you are suddenly transported into the world inhabited by your subject - in this case one of New Zealand's greatest painters. I have no idea whether Frances Hodgkins looked to the newspaper for interesting recipes, although she could cook and I do know that she made a Veal and Ham Pie on 20 April 1895 since she mentioned it in a letter to her sister Isabel. But Frances had left New Zealand on her first trip to Europe several weeks before this recipe appeared on 20 March 1901, so alas, she missed out on Cheese Turnovers. Luckily we can still make them.
Make the pastry at least three hours before you need it
Bring the butter and cream cheese to room temperature - they don't have to be very soft, just not completely chilled - and cream them together in a food processor or by hand.
Add the flour and salt and mix or pulse to combine. Turn out onto the bench, knead lightly, divide in half and form into two flat, round discs about ½ in/13 mm thick. Wrap well in waxed paper and refrigerate for three hours or overnight.
Getting ready
Preheat the oven to 400°F/200°C and line a baking sheet with baking paper or grease it lightly. Take pastry out of the fridge and let it sit on the bench for 20 minutes. Grate the cheese or cut it into thin slices.
Getting ready
Take one half of the pastry and roll out on a floured board to a rectangle about 12 in x 7in/30cm x 18 cm. Spread 1 tsp the mustard evenly over one side of the pastry, top with half of the cheese, salt and pepper and sprinkle over ¼ tsp vinegar.
Flip the other half of the pastry over to cover the filling, pinch the edges to seal them and move the parcel carefully onto the baking sheet. Repeat with the other piece of pastry. Refrigerate the baking sheet for 10 minutes.
Brush the tops of the turnovers with water and sprinkle with a little flaky salt, and then bake them for 15 minutes, rotating after 10. Leave on the tray for 5 minutes, then slide onto a board and cut each turnover into nine fingers. Serve them warm. (You can leave them in the fridge for several hours before you bake them and then produce them with a flourish when you need them.