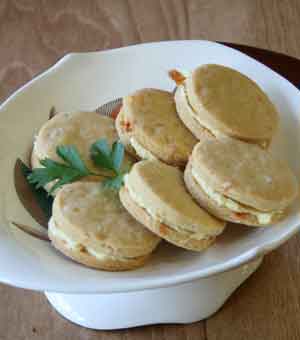 Switch to Metric
Switch to Imperial
Ingredients
For the biscuits
225 g self raising flour
115 g ground almonds
55 g grated parmesan cheese
55 g grated cheddar cheese
pinch of salt
pinch of paprika
140 g butter
3 egg yolks
For the filling
100 g butter
25 g grated parmesan cheese
pinch of salt
pinch of ground white pepper
For the biscuits
8 oz self raising flour
4 oz ground almonds
2 oz grated parmesan cheese
2 oz grated cheddar cheese
pinch of salt
pinch of paprika
5 oz butter
3 egg yolks
For the filling
3½ oz butter
1 oz grated parmesan cheese
pinch of salt
pinch of ground white pepper
Hungarian Cheese Biscuits
These melting morsels are rather simply named, but luxurious to eat. The recipe comes from Mariska Vizvari's aptly titled book, 'Treasure Trove of Hungarian Cookery' published in 1961, and given to me by George Haydn. They are from the 'Afternoon teas' chapter in which all the recipes are for savouries. I imagine that the extensive range of Hungarian cakes and sweet pastries are eaten with coffee... These do taste very good with tea, but try them with drinks before dinner too. The butter and cheese filling is a particularly toothsome addition to the biscuits but if a Hungarian butter-fest is not for you, just eat them on their own. They keep well in an airtight tin, or even better frozen.
Getting ready
Preheat the oven to 375º F/ 180º C, fan bake, and line two baking trays with baking paper. Have the butter at room temperature.
Mixing and baking
Combine the flour, ground almonds, grated cheeses, salt and paprika in a large bowl. Mix in the softened butter and the egg yolks and knead everything well together. The dough will be quite soft, but not sticky.
Flour the bench and roll out half of the dough to a thickness of 1/8 in / 3 mm. Cut the dough into small circles with a 1½ in / 40 mm cutter. Use a spatula to move the biscuits onto the prepapred baking sheets, then repeat with the other half of the dough. You can re-roll the scraps once.
NOTE: this dough is quite soft, so you will need to keep the rolling pin and the top of the dough well floured. If you can't cope with rolling it out, you can form the dough into a log, wrap it and chill it for an hour, then cut it into disks for baking. They won't look quite so refined, but they will taste the same.
Bake the biscuits for about 10-12 minutes until they are turning slightly golden, rotating the trays halfway through the cooking time. Move them carefully onto a cooling rack and when they are cold, store them airtight or freeze them if you prefer.
Filling the biscuits
Cream the softened butter with the grated cheese, salt and spices. Keep beating until the mixture is pale and fluffy.
Pair up the biscuits and spread some filling on one of each pair, then push them gently together. You can fill the biscuits 2-3 hours before serving them. And if you prefer not to fill them at all, they will still be delicious. Makes about 80 single biscuits, or 40 filled biscuits.