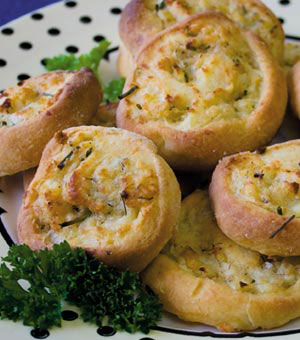 Switch to Metric
Switch to Imperial
Ingredients
For the Dough
125 g flour
1 tsp baking powder
pinch salt
15 g butter
115 ml milk
For the Filling
85 g grated cheese
1 small onion
80 g chopped bacon
½ cup mashed potato
1 tbsp chopped parsley
1 egg
½ tsp mustard *
salt and pepper
For the Dough
1 cup flour
1 tsp baking powder
pinch salt
small piece of butter
½ cup milk
For the Filling
1 cup grated cheese
1 small onion
½ cup chopped bacon
½ cup mashed potato
1 tbsp chopped parsley
1 egg
½ tsp mustard*
salt and pepper
Savoury Pinwheel Scones
Judging by its regular occurrence in community cookbooks, this was a popular type of savoury scone. The base is a plain scone dough, spread with a seasoned cheese and potato mixture, then rolled up and cut into slim spirals for baking. They are fairly substantial and so perhaps more suitable for morning tea than supper. This is based on a recipe from Wiki Paterson, who contributed it to the 1967 Karitane Public Hall Building Committee recipe book.
Getting ready
Prepare the mashed potato, which should be at room temperature, not hot. Preheat the oven to 425°F/215°C and line a baking tray with baking paper, or grease it lightly. Beat the egg lightly with a fork. Chop the onion, bacon and parsley finely, or whiz them in a food processor.
Mixing and baking
Make the filling first by mixing everything together, using just enough of the egg to make a spreadable paste. Set aside.
Sift the dry ingredients into a bowl, rub in the butter and mix in the milk to form a soft dough. You may not need all the milk. Roll the dough out to a rectangle about 12 x 6 in/30 x 5 cm and 5 mm thick, spread with the filling and roll it up. Seal the edge by pressing the dough with your fingers and slice into pieces about ½ in/1 cm thick.
Place the scones on the baking tray and bake for about 10 minutes until nicely coloured. Wiki Paterson finishes her recipe with this comment: 'Rub over with buttered paper before removing from oven. This is a firm favourite.' (I brush them with a little melted butter.) Makes about 36.