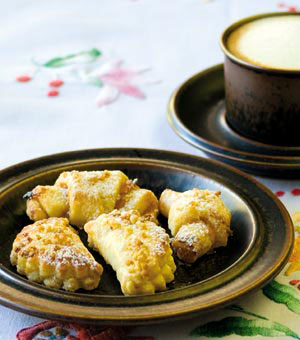 Switch to Metric
Switch to Imperial
Ingredients
For the Cream Cheese Pastry
115 g butter
85 g cream cheese
125 g flour
For the Filling and to Finish
2–3 tbsp apricot jam
1 egg
2 tbsp walnuts
icing sugar, for dusting
For the Cream Cheese Pastry
4 oz butter
3 oz cream cheese
1 cup flour
For the Filling and to Finish
2–3 tbsp apricot jam
1 egg
2 tbsp walnuts
icing sugar, for dusting
Apricot Crescents
I found this recipe lurking at the bottom of a page in the 1964 Menorah Cookbook, a compendium of excellent recipes published to help raise funds for a new synagogue in Auckland. It is in the 'Coffee Accompaniments' chapter, modestly called Cream Cheese Envelope and contributed by Mrs H. Rosen. Mrs Rosen's pastry was a revelation to me - tender, light, flakily layered and with a slight cream cheese tang, it is made in a moment in a food processor or mixer and, having rested overnight in the fridge, it can be rolled out with ease. I suggest you try your home-made Apricot Jam in these, although any good, tart jam will do and Guava Jelly is excellent.
Getting ready
Remove the pastry from the fridge and leave on the bench in its paper for 20 minutes before rolling it out. Preheat the oven to 375°F/190°C. Line two baking trays with baking paper or grease them lightly. Stir up the apricot jam to loosen it and beat the egg for the glaze. Use a food processor to grind the walnuts into crumbs or chop finely.
Making and baking the crescents
Take one disc of pastry and roll it gently on a floured board into a circle about 1/8 in/3 mm thick and 8–9 in/20–23 cm in diameter. Try to keep it as round as you can - you could use the flat base of a flan tin as a circular pattern.
Spread half the apricot jam evenly over the round of dough and then, using a long-bladed knife, cut the pastry into 8 or 12 wedges, just as you would cut up a pie.
Take each wedge and, starting at the wide end, roll it up fairly tightly towards the point. Finish with the point underneath, bend the roll into a shallow crescent and place on the tray.
You can make up the second lot of pastry the same way, or cut it into squares or rounds, place a small half-teaspoonful of jam on one half and fold over to enclose the jam. Pinch the edges to seal and place on the baking tray. Chill the pastries on the trays for 20 minutes.
Remove the trays from the fridge, brush each pastry lightly with the egg and sprinkle with the walnuts. Bake for 10–12 minutes until golden brown, rotating the trays halfway through.
Cool on a rack and dust with icing sugar before serving. They are wonderful warm and at their best on the day they are made. Makes 16–24 crescents.