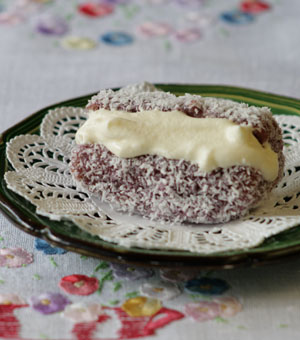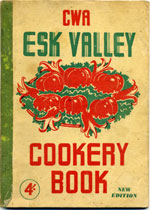 Switch to Metric
Switch to Imperial
Ingredients
For the Cakes
55 g butter
55 g caster sugar
½ tsp vanilla essence
1 egg
115 g self-raising flour
pinch of salt
3 tbsp milk
2 tbsp butter for greasing the gem irons
For Finishing
1 packet of red jelly
2 cups fine desiccated coconut
250 ml cream
For the Cakes
2 oz butter
2 oz caster sugar
½ tsp vanilla essence
1 egg
4 oz self-raising flour
pinch of salt
3 tbsp milk
2 tbsp butter for greasing the gem irons
For Finishing
1 packet of red jelly
2 cups fine desiccated coconut
1 cup cream
Gem Iron Cakes
These have become my latest obsession. I found the recipe in a small cook book put together around 1940 by the Country Women's Association in Tasmania's Esk Valley. The contributor was Miss M. Wheeler of Longford and her cakes are tender, delicious and similar to Lamingtons, but they have a gem's pleasantly rounded shape. (I've since found that Australian gem irons are a different shape from New Zealand ones. They make little hemispheres which you can sandwich together before rolling them in jelly and coconut to make spherical cakes. I recently acquired a set of new Australian gem irons and plan to try them out soon. . . .) I've also discovered a number of New Zealand recipes for Gem Iron cakes ranging from little sponges made with minimal butter to apple spice cakes with lots of finely chopped raisins and stewed apple. I intend to try them all.
Getting ready
Preheat the oven to 400º F / 200º C. Bring the butter and eggs to room temperature and put the gem irons into the oven to heat. Sift the flour and salt together.
Mixing and baking
Cream the butter and sugar until light and fluffy, then beat in the vanilla essence followed by the egg.
When the mixture is pale and creamy, fold in the sifted dry ingredients.
Take the gem irons out of the oven, put them on a heatproof board and drop about ½ tsp butter into each depression. It should sizzle nicely. You don't need to spread it around.
Spoon the cake mixture into the gem irons, until they are about ¾ full.
Bake for 10 to 12 minutes, then remove from the oven and allow to sit for a minute or two before turning them out onto a cooling rack.
Finishing
Make up the jelly using half the normal quantity of water - or you could dissolve 1 tbsp gelatine in a cup of heated fruit juice. (I boiled up some frozen blackcurrants with a little sugar, strained out the juice and used that.)
When the jelly is beginning to set and about the consistency of raw egg white, dip the cakes into it and roll them in desiccated coconut. Leave on a rack until the jelly sets.
To serve the cakes, make a slit along the length of each one and spoon in some whipped cream.