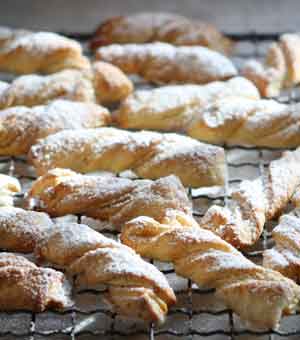 Switch to Metric
Switch to Imperial
Ingredients
60 ml warm water
1 tsp sugar
1½ tsp dried yeast
170 g butter, melted
150 ml yoghurt
1 egg
340 g flour
2 tsp lemon zest, finely grated
115 g sugar
½ tsp cinnamon (optional)
¼ cup warm water
1 tsp sugar
1½ tsp dried yeast
6 oz butter, melted
2/3 cup yoghurt
1 egg
12 oz flour
2 tsp lemon zest, finely grated
4 oz sugar
½ tsp cinnamon (optional)
Pastry Twists (Mafish)
From 'Sweets and Desserts from the Middle East' (1984) by Arto der Haroutunian, who describes them as 'delicious little sugary pastries. . . a childhood favourite of mine'. In my experience adults find them fairly hard to resist too. They are made from a simple yeast dough enriched with melted butter, egg and yoghurt and flavoured with lemon zest. You make the dough in the evening and rest it overnight in the fridge, then roll it out and layer it with sugar, cut it into strips, give each one a twist, and bake them quickly. The process may sound complicated but it is surprisingly simple really. Pastry Twists are best of all the day they are made, but will keep for a couple of days in an airtight tin.
Getting ready
Put the sugar and yeast into a small bowl and pour on the warm water. Set aside for 10 minutes until frothy.
Making the dough
Pour the butter into a large mixing bowl and stir in the egg and the yoghurt.
Add the frothy yeast mixture and the lemon zest and gradually stir in the flour until you have a soft dough. Add another ½ cup flour if you need to.
Knead the dough until it is smooth and divide it into two parts. Put each ball of dough into a small bowl and cover with a plate, then refrigerate them overnight. (They won't rise very much at all.)
Shaping and baking (the next day)
Lightly butter two baking sheets and preheat the oven to 350ºF/180 ºC.
Working on a lightly floured board, roll out one ball of the chilled dough into a rectangle. (Arto suggests sprinkling the board with sugar rather than flour, but that is a little trickier to manage.) Aim to have the dough 1/8 in/3 mm thick and measuring about 10 x 14 in/ 25 x 35 cm.
Have half of the sugar and some cinnamon ready. Sprinkle the dough with some sugar and a little cinnamon, then fold it in half and roll out to the original size. Repeat this process twice and finish by sprinkling any remaining sugar over the dough and rolling it in lightly.
Now cut the dough across into three long rectangles and cut each into 16 strips. (I use a pizza wheel.) The strips should be about ¾ x 3 in / 2 x 7.5 cm.
Pick up the strips between thumbs and forefingers and twist each strip into a spiral. Place them on the baking trays about 1 cm / ½ in apart and then bake for 10-15 minutes until golden brown. Move onto a rack and dust with icing sugar while warm.
Repeat with the remaining dough. You should get at least 80 pastry twists. Store airtight.