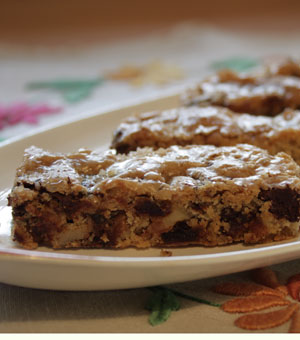 Switch to Metric
Switch to Imperial
Ingredients
115 g butter
140 g brown sugar
1 egg
1 tsp vanilla essence
115 g flour
85 g walnuts
115 g dates
85 g chocolate
2 tbsp Demerara sugar
4 oz butter
5 oz brown sugar
1 egg
1 tsp vanilla essence
4 oz flour
3 oz walnuts
4 oz dates
3 oz chocolate
2 tbsp Demerara sugar
Caramel Nougat Slice
These have no relation to the white nougat you can buy, although they are almost as delicious and a great deal easier to make. Nougat Slices and Nougatine Bars appear in many early cookery books and the name usually indicates the presence of nuts and brown sugar in the mix. (In French baking nougatine means a mixture of caramelised sugar and almonds.) I found Caramel Slice and Nougat Bars side by side in a 1967 'Recipe Book' produced by the Wakari Presbyterian Church in Dunedin and decided to see if I could successfully combine them - putting the chocolate in the mixture instead of on top, melting the butter rather than creaming it with the sugar and leaving out the baking powder to make a chewier slice. I think they are very good indeed.
Getting ready
Preheat the oven to 350º F / 180º C and line a shallow 12 x 8 in / 30 x 21 cm tin with baking paper or grease it lightly. Chop the dates, walnuts and chocolate fairly coarsely and try to keep the pieces about the same size.
Mixing and baking
Melt the butter in a saucepan, pour it onto the brown sugar in a mixing bowl and beat them together with a wooden spoon. Add the egg and vanilla and beat again.
Sift on the flour then add the walnuts, dates and chocolate and mix everything together until well combined.
Press the mixture evenly into the tin, sprinkle with the sugar and bake for 20-25 minutes until golden brown and firm to the touch.
Cool slightly in the tin on a cake rack, and then cut into fingers while it is still warm. Makes about 32.