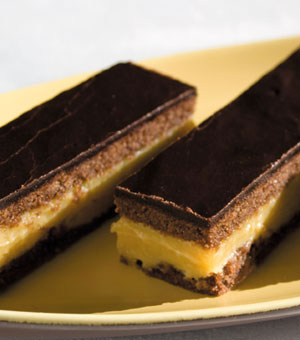 This recipe comes from my book:
Ladies a Plate
If you would like more recipes like it, you can buy the book at the bookshop
Switch to Metric
Switch to Imperial
Ingredients
For the Shortcake
170g butter
115g sugar
1 egg
250g flour
1 tbsp cocoa
1 tsp baking powder
1 tsp vanilla essence
For the Filling
390g condensed milk
100g golden syrup
115g butter
100g sugar
vanilla essence to taste
For the Icing
120g icing sugar
2 tbsp cocoa
1 tbsp butter, melted
For the Shortcake
6 oz butter
4 oz sugar
1 egg
2 cups flour
1 tbsp cocoa
1 tsp baking powder
1 tsp vanilla essence
For the Filling
1 tin condensed milk
4 tbsp golden syrup
4 oz butter
½ cup sugar
vanilla essence to taste
For the Icing
1 cup icing sugar
2 tbsp cocoa
1 tbsp butter, melted
Chocolate Caramel Fingers
Two layers of chocolate shortcake enclose a generous band of creamy caramel, all baked together then iced and cut into small fingers. The topping is usually chocolate icing or, more extravagantly, melted dark chocolate and the caramel relies on an old favourite ingredient: sweetened condensed milk. This recipe comes from a Tokoroa community cook book which had already lost its cover and the first six pages by the time a friend, Maree Stubbington lent it to me. I noticed that a Mrs S. Dunphy had contributed 16 recipes to the book, and subsequently I was delighted to discover that Shirley Dunphy still lived in Tokoroa; that the book had been a 1963 fund-raiser for a new kindergarten; and that at 73 she was still enjoying her work as the busy and popular cook at the Tokoroa Hospital cafeteria. This is her excellent version of a New Zealand classic.
Getting ready
Preheat the oven to 400 °F/200 °C and line a shallow 12 x 8 in/30 x 21 cm tin with baking paper, or grease it lightly. Soften the butter for the shortcake. Make the filling by combining all the ingredients in a saucepan and heating gently. Stir with a wooden spoon until everything amalgamates and set aside in a bowl to cool.
Mixing and baking
Cream the butter and sugar and beat in the egg.
Add the sifted dry ingredients and the vanilla essence and mix to a softish dough. Divide in half and chill for about 10 minutes.
Roll out one half fairly thinly on a floured board and put in the prepared tin, pressing down well, then pour on the cooled filling and spread it evenly.
Now roll out the second half of the dough - chill it again if it seems too soft, or roll it between sheets of baking paper - and place carefully on top of the filling.
Bake for 20 minutes until firm on top - the filling will still be soft. Rotate the tin after 10 minutes.
Ice while hot with a thin chocolate icing. Sift together the icing sugar and cocoa and mix to a spreading consistency with melted butter and a little hot water. Or just use melted dark chocolate.
Leave to cool before cutting into small squares or fingers. Makes 32 fingers.