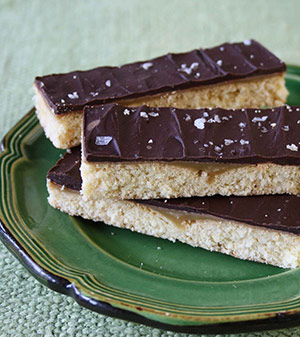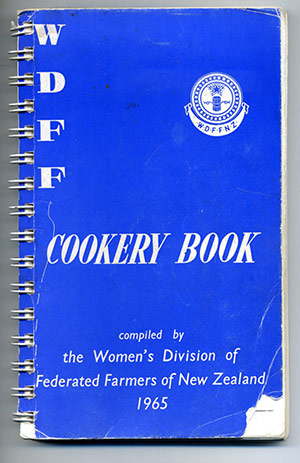 Switch to Metric
Switch to Imperial
Ingredients
For the base
85 g sugar
1 egg
85 g butter
1 tbsp golden syrup
170 g flour
80 g desiccated coconut
1 tsp baking powder
For the filling
25 g butter
2 tbsp sweetened condensed milk
2 tbsp brown sugar
2 tsp golden syrup
For the topping
100 g dark chocolate
120 g icing sugar
a little flaky sea salt
For the base
3 oz sugar
1 egg
3 oz butter
1 tbsp golden syrup
6 oz flour
1 cup desiccated coconut
1 tsp baking powder
For the filling
1 oz butter
2 tbsp sweetened condensed milk
2 tbsp brown sugar
2 tsp golden syrup
For the topping
3½ oz dark chocolate
1 cup icing sugar
a little flaky sea salt
Salty Caramel Coconut Slice
Sweetened condensed milk cooked with butter sugar and golden syrup makes a delicious caramel filling for a slice, but this one is a leaner version than many. It has a thin layer of caramel on a dryish coconut base but with a good coating of melted chocolate icing and a sprinkle of flaky sea salt to finish. It keeps well and has been a big success with my family. I think it is well worth making.
Getting ready
Preheat the oven to 375º F/ 180º and line a line a shallow 12 x 8 inch / 30 x 21 cm tin with baking paper. Have the butter at room temperature.
Mixing and baking
Put the sugar and egg into a food processor and process until well mixed. Drop in the softened butter a few lumps at a time, with the processor running and then add the golden syrup.
Remove the processor lid, scrape down the sides and then tip in the coconut and the sifted flour and baking powder. Process just until the mixture forms a soft dough.
Spread the dough evenly in the prepared tin and bake for about 20 minutes until golden brown and fully cooked.
Combine filling ingredients in a small saucepan and heat gently, stirring, until the butter is melted, then bring to a simmer and cook for 1 minute. Spread evenly over the cooked base and leave to cool.
Finishing
Break up the chocolate and put in a heatproof bowl over a pan of water which has been brought to the boil, and then taken from the heat.
Once the chocolate has melted mix in the sifted icing sugar and spread the icing evenly over the caramel filling. Sprinkle with a little flaky sea salt and cut into fingers when the icing has set. Makes 32 fingers.