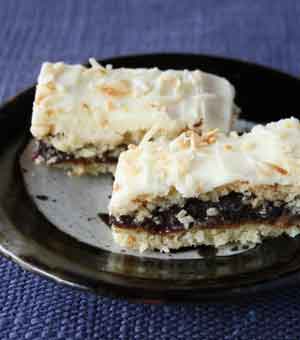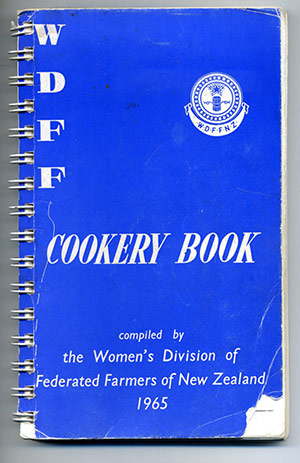 Switch to Metric
Switch to Imperial
Ingredients
For the dough
150 g sugar
1 egg
115 g butter
120 g fine desiccated coconut
180 g plain flour
¾ tsp baking soda
1½ tsp cream of tartar
For the filling
240 g dates
180 ml water
1 tsp cinnamon
½ tsp mixed spice
2 tsp golden syrup
For the icing
120 g icing sugar
55 g butter
zest of 1 lemon
2 tbsp lemon juice
2 tbsp shredded coconut
For the dough
¾ cup sugar
1 egg
4 oz butter
1½ cups fine desiccated coconut
1½ cups plain flour
¾ tsp baking soda
1½ tsp cream of tartar
For the filling
2 cups dates
2/3 cup water
1 tsp cinnamon
½ tsp mixed spice
2 tsp golden syrup
For the icing
1 cup icing sugar
2 oz butter
zest of 1 lemon
2 tbsp lemon juice
2 tbsp shredded coconut
Spicy Date Jumbles
Many older recipes for filled slices suggest rolling out the basic dough on a sheet of paper, spreading the filling on one half, then using the paper to flip over the top layer of dough and enclose the filling. The resulting slice looks far more complicated to make than it is. This recipe for Date Jumbles, which have coconut in the dough and a really delicious cooked date filling, comes from the 1965 WDFF Cookery Book, compiled by the Women's Division of Federated Farmers of New Zealand. I've added some extra spice to the filling and finished the Jumbles with a buttery lemon icing and some toasted, shredded coconut. Result: a very special afternoon tea slice.
Getting ready
Make the filling by cooking the chopped dates and the other ingredients together for about 3 minutes until they form a smooth paste. Set aside to cool. Preheat the oven to 350ºF / 180 ºC and line a shallow 12 x 8 inch / 30 x 21 cm tin with baking paper. Have the butter at room temperature.
Mixing and baking
Put the sugar and egg into a food processor and process until well mixed. Drop in the softened butter a few lumps at a time, with the processor running and then add the vanilla essence.
Remove the processor lid, scrape down the sides and then tip in the coconut and the sifted flour, baking soda and cream of tartar. Process just until the mixture forms a soft dough.
Turn the dough out onto a floured board and form into a flattish cake, then move it onto a sheet of baking paper and use your fingers, then a rolling pin to stretch out the dough until it measures about 14 x 12 in / 35 x 30 cm.
Spread the cooled date filing evenly over one half of the dough, then lift the paper and flip the other half of the dough over to enclose the filling. Press the edges together.
Slide the paper onto a baking tray and bake the slice for about 30 minutes, rotating the tray after 15 minutes. The top will be golden brown and firm. Cool on a rack.
Finishing
Toast the shredded coconut by stirring it around a dry frying pan until it becomes a pale gold, then leave to cool.
Make the icing by combining all the ingredients and mixing to a creamy consistency. Spread evenly over the slice, sprinkle with the toasted coconut and cut into fingers once the icing has set. Makes about 30 pieces.