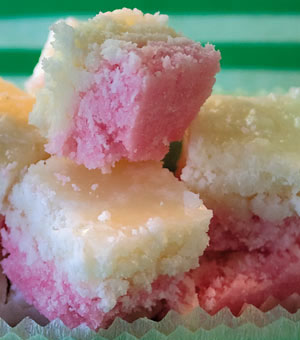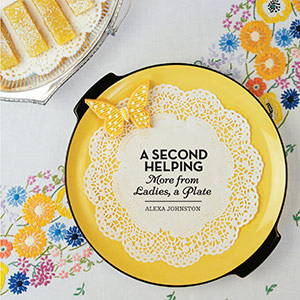 This recipe comes from my book:
A Second Helping
If you would like more recipes like it, you can buy the book at the bookshop
Switch to Metric
Switch to Imperial
Ingredients
For each layer
300 g caster sugar
110 ml milk
15 g butter
65 g coconut
½ tsp coconut essence
For a Pink Lower Layer
½ tsp coconut essence
2 drops red food colouring
For a Green Lower Layer
¼ tsp peppermint essence
2 drops green food colouring
For each layer
1½ cups caster sugar
½ cup* milk
½ oz butter
2/3 cup coconut
½ tsp coconut essence
For a Pink Lower Layer
½ tsp coconut essence
2 drops red food colouring
For a Green Lower Layer
¼ tsp peppermint essence
2 drops green food colouring
Coconut Ice
Having tried in vain to achieve a two-layer, pink-and-white coconut ice by colouring the second half of the mixture after pouring the first half into the tin, I decided to make it in two separate batches - and it worked. I also add a little coconut essence, which ups the coconut factor considerably and makes the whole confection a fractionally less sugary experience. The green and white version has a tiny bit of peppermint essence in the lower layer and this works well, too.
Getting ready
You will need a heavy-based, straight-sided saucepan, preferably 5 in/12 cm deep; a simmer mat; a metal whisk with a heatproof handle; a bowl of cold water and a long-handled spoon or wooden chopstick for testing. Grease a 6 in/16 cm square tin and line it with a piece of baking paper, taking it far enough up the sides to allow you to lift out the Coconut Ice later. Measure out the essence and food colouring and mix it in an eggcup ready to add.
Making the Coconut Ice
Put the sugar, milk and butter in the saucepan on a simmer mat over a very gentle heat and stir. The sugar must be totally dissolved before the mixture comes to the boil (3–5 minutes). To test it, I dip a wooden chopstick into the syrup, then rub the syrup between wet fingertips to feel whether any sugar granules remain.
Once you have a smooth, whitish syrup, increase the heat very slightly and bring the mixture to a gentle boil, stirring constantly with the metal whisk as the temperature rises. Test after it has boiled for 2 minutes by dropping some of the mixture into the bowl of cold water and keep testing until it forms a soft ball between your fingers (238°F/114°C).
Remove the saucepan to a heatproof mat, tip in the coconut and the essence and colouring, and stir gently for 1–2 minutes until the mixture just begins to thicken and become opaque. Pour it into the tin and make the second layer in the same way, but without the colouring. Pour it on top of the first.
After a few minutes, score it lightly with a knife into squares. Give it another 15 minutes or so then, while it is still warm, lift out the whole slab using the baking paper and cut it carefully along the marked lines. The Coconut Ice will still seem slightly damp, so set out the squares on a baking tray and allow them to dry. Store airtight.