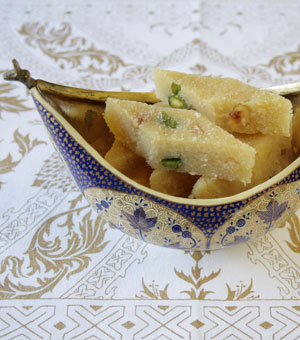 Switch to Metric
Switch to Imperial
Ingredients
150 g sugar
375 ml milk
100 g butter
200 g fine semolina
Pinch of ground cardamom
1 tbsp pistachios
1 tbsp hazelnuts
1 tbsp mixed peel
1 tbsp golden sultanas*
* You should have about ¼ cup of fruit and nuts - use any combination you like.
¾ cup sugar
1½ cups milk
3½ oz butter
1 cup fine semolina
Pinch of ground cardamom
1 tbsp pistachios
1 tbsp hazelnuts
1 tbsp mixed peel
1 tbsp golden sultanas*
* You should have about ¼ cup of fruit and nuts - use any combination you like.
Pistachio and Hazelnut Halva
In India and the Middle East this sort of confection is usually served as a dessert in bowls, and has a light and fluffy texture, but I prefer it as a slightly fudge-like sweet. It is made from semolina which is cooked with butter, a milk syrup and various nuts and flavourings. I always use ground cardamom to give an Arabian Nights flavour and I cut it into diamond shapes to serve. It keeps well in the fridge and is a pleasant alternative to chocolate with a small coffee after dinner.
Getting ready
Roast the hazelnuts for about 15 minutes at 350ºF / 180ºC until the skins split and they smell toasted. Cool a little then rub away the papery skins. (I usually make about a cup of these at a time and store them airtight until I need them.)
Pour boiling water over the pistachios, let them cool a little and rub away the purple skins. Chop all the nuts roughly. Line an 8 x 8 in / 20 x 20 cm square tin with a strip of baking paper.
Cooking the halva
Heat the milk and sugar gently together until the sugar dissolves. Set aside.
Melt the butter in a large frying pan and tip in the semolina. Stir over a moderate heat for about 3-4 minutes until the semolina changes colour and darkens very slightly.
Remove from the heat and gently pour on the syrup, stirring constantly. Be careful, the mixture will splatter a little.
Mix in the cardamom and the fruit and nuts, and then return the pan to the heat.
Cook for about 2 minutes, still stirring all the time until the mixture is very thick and leaves the sides of the pan.
Scrape it into the prepared tin and flatten out with a spatula. Sprinkle with a little more sugar and set aside to cool.
Lift out of the tin using the baking paper and cut carefully into squares or diamond shapes. Store in the fridge.