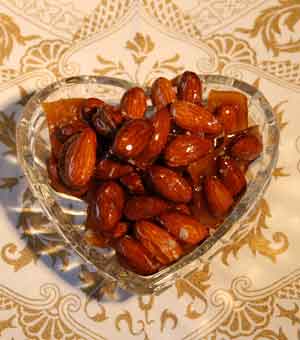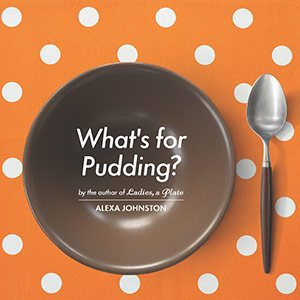 This recipe comes from my book:
What's for Pudding
If you would like more recipes like it, you can buy the book at the bookshop
Switch to Metric
Switch to Imperial
Ingredients
200 g whole, unblanched almonds
200 g caster sugar
½ tsp flaky salt
1 cup whole, unblanched almonds
1 cup caster sugar
½ tsp flaky salt
Salted Toffee Almonds
This is a very simple recipe for an extremely popular confection. Everyone loves toasted almonds and when they are coated in crunchy caramelised sugar and lightly sprinkled with salt, the flavours and textures combine in a highly satisfactory manner. They keep very well in an airtight jar and make a very pretty present.
Cooking the almonds
Put the almonds and the sugar into a heavy frying pan. Cook over a moderate heat, stirring constantly with a wooden spoon until the sugar has melted to a dark golden caramel and the almonds smell slightly toasted. This will take 6-7 minutes.
Tip the mixture carefully onto a heavy, lightly oiled baking sheet, spreading the almonds out to a single layer with your wooden spoon and sprinkle over the salt.
Leave to cool and set, then break apart into small clusters. Store airtight and serve after dinner.