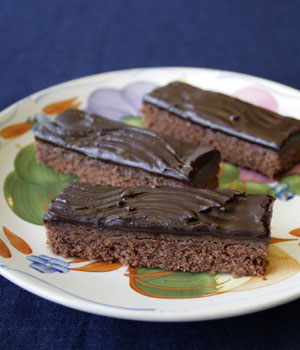 Switch to Metric
Switch to Imperial
Ingredients
Base
115 g butter
100 g sugar
1 egg
140 g flour
1 tbsp cocoa
½ tsp baking powder
Filing
200 g sweetened condensed milk
55 g butter
1 tbsp golden syrup
2 tsp cocoa
Icing
3 tbsp water
45 g caster sugar
45 g butter
190 g icing sugar
3 tbsp cocoa
Base
4 oz butter
½ cup sugar
1 egg
5 oz flour
1 tbsp cocoa
½ tsp baking powder
Filing
½ tin sweetened condensed milk
2 oz butter
1 tbsp golden syrup
2 tsp cocoa
Icing
3 tbsp water
3 tbsp caster sugar
3 tbsp butter
1½ cups icing sugar
3 tbsp cocoa
Skite Cake
When I was at school a 'skite' was a show-off and it was deeply embarrassing to be accused of skiting. And yet despite its name, Skite Cake, which I found in a 1950s recipe book from the Awamangu-Pukeawa Association of Presbyterian Women, seems to hide its light under a bushel. It has a chocolate shortcake base with a chocolate caramel filling and chocolate icing, but the caramel filling is not apparent until you bite into it, and then the slightly chewy texture comes as a pleasant surprise. It is something to skite about - but just quietly. (I've suggested a delicious fudgy icing which was developed by Lois Daish and appears on the Afghans in 'Ladies, a Plate'.)
Getting ready
Preheat the oven to 350º F / 180º C. Grease a shallow 12 x 8 in / 30 x 21 cm tin and line the base and two sides with a piece of baking paper.
Soften the butter and bring the egg to room temperature. Sift together the dry ingredients.
Cream the butter and sugar until well combined - you can do this is a food processor. Add the egg, then the dry ingredients and spread the mixture evenly in the prepared tin. Bake for about 20 minutes until firm and cooked.
While the base is in the oven combine the filling ingredients in a small saucepan and heat gently together, stirring, until well combined.
Pour the hot filling onto the cooked base, spread it out evenly and return to the oven for 5 minutes. Set aside on a rack until cool.
Finishing
Sift the icing sugar and cocoa into a bowl.
Gently heat the water, caster sugar and butter in a small pot until the butter melts simmer for one minute to form a syrup.
Beating all the time, pour about ¾ of the syrup onto the icing sugar and cocoa. Add the remaining syrup if necessary to make a smooth, fudgy icing. Add a little hot water if it's still too thick. Spread over the cooled base, and leave to set for about 20 minutes before cutting the Skite Cake into about 32 fingers.